A
personal stylist

,
just for you
Work 1:1 with a professional stylist and build your perfect wardrobe. She curates looks and you buy what you love.
How It Works
1. TAKE OUR STYLE QUIZ
Create your style profile and get matched with a personal stylist (yes, she's real). Then, schedule a time to connect with her 1:1 over text.
2. SHE CREATES YOUR LOOKS
Your stylist shops online based on the information you provided in your quiz. She searches through hundreds of brands to build you three personalized looks (~36 pieces).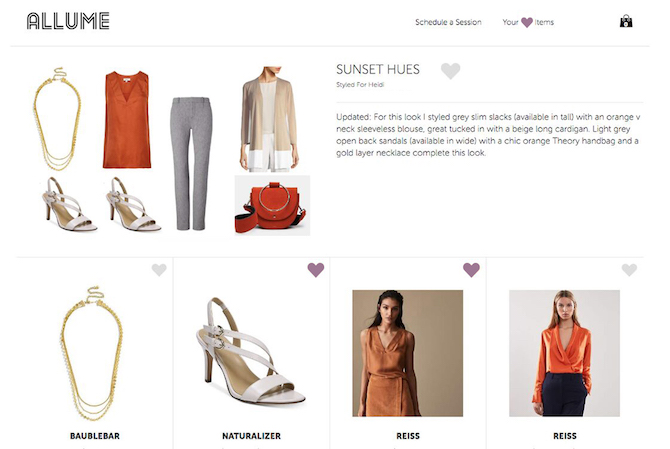 3. REVIEW TOGETHER AND PURCHASE
At your consult, you'll review your digital lookbook together over text. She'll swap out any items that aren't quite right. Easily purchase items you love right from your lookbook.
4. BUILD YOUR PERFECT WARDROBE
When your clothes arrive, text your stylist what's working and what's not. The more you work together, the better she gets at nailing your style.
What Makes Allume Different
Text 1:1 with your

stylist

Only buy what you love
Shop from your favorite brands
Prices never marked up
Not a box service
How We're Different
From a Box
Actually text with stylist
Request specific items
Hundreds of brands in one place
Buy from a digital lookbook
Items ship from brands directly
What To Expect
Take our style quiz

Match with a

personal stylist

She sends a digital Lookbook

Review your looks together over text

Only buy what you love
$20 styling fee,
refunded with purchase
STILL HAVE QUESTIONS?
$20 styling fee, refunded with purchase.
Prices never marked up.
What Our Clients Say

I'm terrible at knowing what to mix and match. My stylist found me clothes I love and helped me to mix them with clothes I own. Can't wait for my next session!
- MARISSA P.
Portland, OR

I have a full-time job and three kids so I'm busy! Sarah has changed my life! No more searching online! I shop from the Lookbook she sends me once a month.
- CLARISSA M.
Austin, TX

I wanted to feel more put together, but shopping isn't my thing. I tried all the other services before finding Allume. I love that I don't have to send things back and I love my stylist.
- MONICA T.
New York, NY

I'm so thrilled to have discovered Allume!!! I absolutely love my stylist, Katie–she really nailed it! She saved me so much time and money. I've spent hours in the past searching online for one top, never again. I have my very own personal stylist. This is a game changer for me. I'm excited about shopping again!!!
- ERIKA J.
St Louis, MO

I love this service! Yes, items ship from retailers, but to me it just means way more brand options. I've tried other services, but the clothes were just so basic and bad. With Allume you can send pics ahead of your session and your stylist will come up with similar looks in your price range.
- JENNIFER W.
Raleigh, NC

I love Allume!! I get complete outfits to shop from [online] in my price range without running all over town. I've tried other companies and Allume is the best, hands down. I pick my own clothing from a huge selection of suggestions and if I don't like something, my stylist replaces it. Best service, better quality clothes.
- KIM P.
Lexington, KY
Our Brands